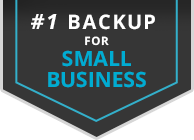 NovaBACKUP® Business Essentials
SQL & EXCHANGE SERVER BACKUP SOFTWARE WITH
VIRTUAL MACHINE SUPPORT

Our most popular, all-in-one backup solution. It's everything you need, with none of the hassle.
FAQs
Browse through our most frequently asked questions.
Can NovaBACKUP Business Essentials save files if they are open during a backup?
Yes, NovaBACKUP Business Essentials supports open-file backups using VSS.
What kind of notifications does NovaBACKUP have? I need to know that my server is backed up every day.
Knowing that your backups are running is very important. You can check the backups log in NovaBACKUP, or just look at the icon - if it's green, your backups are running. We also have a few different notification methods you can choose from. The most common option is email notification, which means NovaBACKUP will email you every time a backup is complete.
If I run a backup one evening, will subsequent backups only save new files, or will subsequent backup jobs save all files again?
NovaBACKUP can do both, depending on the type of backup you select and how you configure it. You can view the User Manual to find more information.
Will NovaBACKUP work on my Small Business Server? Do I need agents for Microsoft Exchange?
Yes, NovaBACKUP Business Essentials includes support for Microsoft Exchange backup as well as SQL server backup - and you do not have to purchase additional agents. Windows Small Business Server 2008, 2011, Windows Server 2012 R2 Essentials, Windows Server 2016, and Windows Server 2019 are all supported by NovaBACKUP.
Does NovaBACKUP have an FTP option? I want to have a backup run to a USB hard drive and to my FTP server at home.
FTP and FTPS are supported. You can simply set up two backup jobs - one backing up locally and the other to your FTP server.
I have over 500GB on my server – with NovaBACKUP, do I have to do a full backup every night, or does the software have a way of only backing up files that have changed since the last full backup?
NovaBACKUP can run full, incremental, and differential backups. You can set it up to only backup changes that happen, which can save a significant amount of storage space on your backup drive.
Do I have to stop SQL to conduct backups?
No, NovaBACKUP Business Essentials includes the Microsoft Exchange and SQL plugin. There is no need to take down your SQL at any time to safely backup and protect your database.
I've got a Microsoft Exchange server and a file server, will one NovaBACKUP license work for both?
Business Essentials operates with one server, so you will need one NovaBACKUP Business Essentials for your Exchange Server backup, and a separate solution (either NovaBACKUP Server or Business Essentials) for your file server.
My office has a small business server and 8 workstations. I want disaster recovery for the server and the ability to back up my documents on the workstations. What do I need to get?
If you have SQL, Exchange or any virtual machines running on your small business server, we would recommend NovaBACKUP Business Essentials. If your small business server is a straight file server, we recommend taking a closer look at NovaBACKUP Server. I would then add 8 licenses of NovaBACKUP PC to backup the workstation. One 5-pack and one 3-pack would cover your needs. You may also want to consider downloading our free central monitoring console, NovaBACKUP CMon, to monitor all of your backups from a single web-based application.

Can NovaBACKUP backup to the cloud?

People define cloud backup in many different ways. NovaBACKUP is able to backup to cloud storage in the following ways: True online backup from a preferred NovaStor provider, Amazon S3 storage, FTP, and via access to your preferred file sharing services like Dropbox, OneDrive, Google Drive, Sync and SafeSync.
What are the System Requirements for NovaBACKUP Business Essentials?

NovaBACKUP Business Essentials supports all latest Windows operating systems, SQL Server and Exchange applications, as well as Hyper-V and VMware hypervisors.

For a complete, up-to-date list of system requirements for NovaBACKUP Business Essentials, please view our system requirements document.

Still have questions?
Call, email, or live chat. We're here to help.
Are you a technology reseller?

Our partner program is designed specifically for integrators like you.