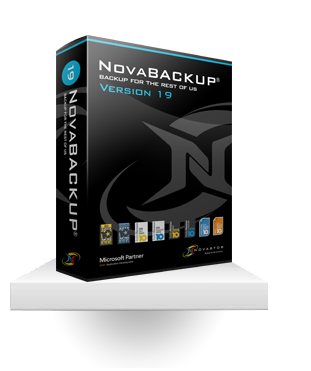 Thank You for
Downloading NovaBACKUP 19.3 PC
Your download will start soon.
If it doesn't, please click the "Download Now" button.
NovaBACKUP PC Advantages:
Complete PC Backup and Restore Software
P2V: Instantly recover your entire system to any virtual environment.
Supports All Latest Windows OS, Including Windows 10
Easy to Install and Use with Simple Backup Wizards
Industry-Leading Disaster Recovery (Image Backups)
Full, Differential and Incremental Backups
Best Practice for Backup: Local, Online and Image Backups
Backup to File Sharing Services Like Dropbox, Google Drive and More
Secure Backups with Military-grade Encryption
Backups Run Automatically So You Can Set and Forget
2 GB Free Online Storage for Cloud Backups
4x Faster Backup Speeds; Tested 456% Faster Than Competition
Need Help Getting Started?
Here are a few links to help you get started using NovaBACKUP:
Installing NovaBACKUP
Download and run the installer executable.
Follow the simple instructions on your screen.
Thank you for downloading our Windows backup software for PCs!
Are you a technology reseller?

Our partner program is designed specifically for integrators like you.